This is the third year in a row I've played at the Kidlington Chess Congress – see my previous posts about 2010 and 2009.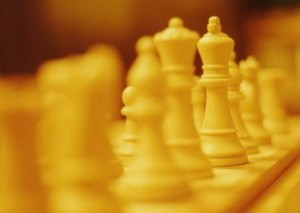 Photo courtesy of Sarah Ewart
When I arrived, I spoke to one of the organisers who immediately mentioned that they had been wondering whether I was too strong for the Under-145 graded section and said they had been considering moving me up into the Under-180 section. Based solely on my results from last year, where I played very well, that would have been quite reasonable and I could hardly have disagreed. However, he went on to say that based on my results from the last two years, it's less clear that I would be graded high enough for the U-180 section. They had assigned me an estimated grade of 140 and left me in the U-145 section.
Round One: Played White against an Oxford-based player. The game started with a fairly drawish variation of the French Defence and looked to be heading for a drawn endgame. I had a slightly better position and had been setting traps, as much as possible, but he'd been defending very accurately and side-stepped all the tricks. Eventually, however, he blundered and that allowed me to open with a Win. Which was nice.
Round Two: I took a bye for the Saturday afternoon game as I have on previous occasions, so my score was 1.5 out of 2;
Round Three: The Saturday evening game started quite well as I defended with Black and decided on a Slav Defence, which I don't think I've played in a competitive game previously. I lashed out a little too soon at the end of the opening and, as a result, ended up with a fairly horrible position. Not losing, exactly, but with very little scope for playing anything interesting. Credit to my opponent, however, who played accurately for the rest of the game and eventually managed to tempt me into an error. He made rather heavy weather of actually turning his advantage into a win, as he got rather short of time by the end. The end result after a very long slog was that I Lost this one, unfortunately. My score at the end of Day One was 1.5 out of 3;
Round Four: Day Two began with my opponent introducing himself with the line "Dave Ewart? The Dave Ewart??". All I could think of to reply was "Absolutely." or something like that. Perhaps he was just trying to psych me out or something. Didn't seem to bother me, though. I played this game in a very composed and careful manner with White, finding my opponent's Pirc Defence to be rather too passive. He allowed me to advance my Queen's side pawns a long way up the board, trapping a knight behind his own pawns, cut off for the rest of the game. As a result, I was effectively a whole piece up and it didn't take too long to make the most of that advantage. My second Win of the competition brought me to 2.5 out of 4;
Round Five: My second game with Black and we ended up with a Caro-Kann Defence, which I'm fairly at home with. The game turned into a race of sorts: my opponent preparing an attack on the King's side, against my King; I started attacking on the Queen's side and in the centre. Fortunately, my opponent's attack never really got off the ground and I managed to destroy his central pawns. Although the game was clearly a long way from over – there would have been plenty of scope for me to have mucked it up – he resigned. Perhaps, as it was the last round, he didn't want to drag it out and wanted to get home? This third Win gave me a final score of 3.5 out of 5.
My final score was only half a point worse than last year, so all in all I'm pretty pleased. You can see my annotations of all the games here: my Kidlington 2011 games. The final results showed that I was equal 6th (with twelve others on 3.5 out of 5!) out of eighty participants. Can't complain! You can see the results at the Kidlington Congress web site.
If I've understood the rules of the English Chess Federations grading system properly, I've now played enough games (just) over the past three seasons to be given an official grade again. My estimate is that it will be somewhere around 150 +/- 5 points, which means that I probably will be playing in the U-180 section next year 😉