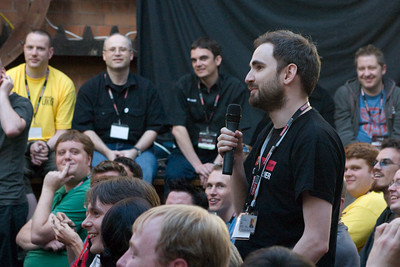 And so the annual pilgrimage to Wolverhampton for Lugradio Live happened. Excellent, as expected. The above photo shows me in the background, sat between Dave 'Schwuk' Murphy (yellow T-shirt) and Steve Lamb Of (Erm…) Microsoft. Some good talks, lots of interesting people to talk to: the Usual Crew, MrBen, Bruno, Neuro, Bryn, Oojah, plus the Lugradio presenters of course. Chatted with a few new people too.
During the Saturday evening party, I'm proud to say that karaoke was perpetrated. Until I can find an actual photo of me with the microphone, we'll have to make do with this: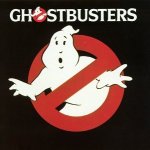 That's right, I sang 'Ghostbusters'. It went down quite well and had plenty of audience participation. Thanks for all your kind words, people 🙂 If anyone has an actual photo of this, please let me know!